Monday MOPS (Mothers of Preschoolers)
SUSPENDED-WE WILL RESUME MOPS AS SOON AS WE ARE ABLE.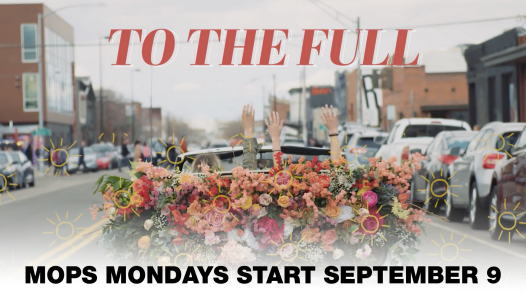 MOPS is a community of any and all moms with children ages birth-5 years. Come to make friends, enjoy breakfast, relevant speakers, and fun activities! We participate in group discussions and share life with each other, meeting the 2nd & 4th Mondays from September 9, 2019 - May 11, 2020 from 9:15am-11:30am in Fellowship Hall. This year, our theme is "To the Full". Come to be renewed and inspired to live your best life--we would love for you to join in!
Who can come? We know we mother better together, so all moms are welcome at MOPS. From the time you get pregnant to when your kiddo is in kindergarten, our doors are open.
For the kids. During MOPS meetings, kids are cared for by childcare workers who are background checked, trained, and love working with our little ones! For the 2019/20 MOPS year, our children will continue utilizing the First Look preschool curriculum from Orange Theory. First Look is designed for babies through 5-year-olds. Every element centers on giving preschoolers an easy to understand first impression of their loving heavenly Father.
Care for kids! Paid childcare workers or volunteers needed for our nursery and preschool rooms during MOPS meetings. Click here if you want to apply to give moms of young children the opportunity to attend.