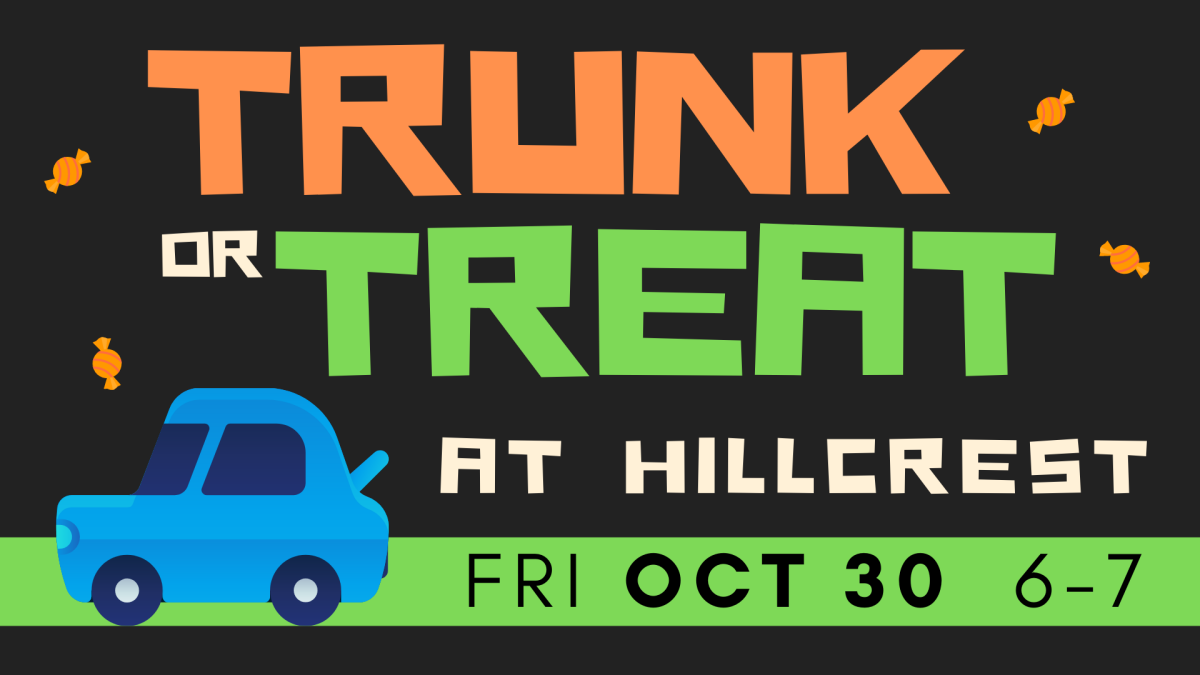 Friday, October 30, 2020, 6:00 PM - 7:00 PM
Decorate your car trunk for toddlers through 8th grade kids in the Hillcrest parking lot! It's a safe and fun way to engage with our community. Dress in costumes and invite your friends and neighbors. Covid safety will be followed. Hillcrest will provide individually wrapped candy for you to hand out. Please wear gloves when serving candy.
Heaters are available. Prizes given for the best dressed dog, best dressed car owners, best trunk and kid participation awards.
Trunk Decorating Parameters:
Consider the two-year-olds looking at your decorations
No scary themes: witches, goblins, ghosts, zombies, skeletons
No propaganda
Instructions for Parked Cars:
Arrive between 5-6 PM to set up trunks
Please wear a face mask and gloves
Leave one parking spot between your car and the next one (6ft)
Give out one piece of candy per child (candy provided by Hillcrest)
One family at a time at your trunk
At least one person at each trunk handing out candy
Please stay parked until the event is over at 7PM
Favorite Trunk will win the grand prize
Rain plan: each participant will decorate an office door frame inside Hillcrest main building
Instructions for Trunk or Treat Attendees:
Leave six feet distance between you and the next family
Wear a face mask
Do not crowd pathway
Wait on designated spot before approaching trunk
Allow space between yourself and other trick or treaters
Do not congregate at a trunk
Practice one-way trick or treating (follow arrows)
Each family will be handed a card to vote for their favorite trunk to hand in at the end
Each child will receive a prize at the end when they hand in the "favorite trunk" card
Take family photos at the photo booth
Please enjoy every trunk and have fun!
Rain plan: go indoors and enjoy each door frame as you move through in one-way direction while social distancing
Kid-Friendly Trunk Decorating Ideas:
Blast from the past (50s, 60s, etc.)
Christmas in October
Hawaiian luau
Under the sea
On a farm
Western
Pumpkin patch
Bubble gum machine
Camping
Pirates
Circus
Emoji
I Spy books
Superheroes
Football (or other sports)
Specific professional or college sports teams
Animals (dogs and frogs are popular choices)
Dr. Seuss
Children's books
Cartoon characters, like Minions or Teenage Mutant Ninja Turtles
Video games like Pac-Man or Minecraft
Popular movies, like Cars, Frozen, Star Wars or Incredibles
Candyland