You're invited!
Join us for a winter brunch with author and speaker,

Terri Sullivant.
Terri will bring us an inspirational message about how God invites us into a life-changing relationship with him.
Thursday, December 5 from 9:30 AM to noon in Fellowship Hall
Women of all ages and stages are welcome to attend. No registration required. Pick up an invitation today at the Connection Center to invite a friend or neighbor!
If you need childcare for kids birth through five years, please register your kids by Thursday, November 21. If you miss the deadline, email Sarah Signer at to see if there is still room. Childcare space is limited.
---
Retreat with us from the everyday. Join us as we direct our gaze at God

rather than the many other things that vie for our attention.
And we all, who with unveiled faces contemplate the Lord's glory, are being transformed into his image with ever-increasing glory, which comes from the Lord, who is the Spirit. —2 Corinthians 3:18
Connect with other women as we spend time in God's Word, art, nature, worship, and prayer. For adult women at any age!
Check-in on Friday starts at 3 PM and runs through 6 PM. (Come early to enjoy a walk and/or time with other women before dinner at 6 PM.)
Tall Oaks Conference Center is located at 12778 W. 189th Street in Linwood, Kansas, about a 35 minute drive from Hillcrest.
Option #1: One night includes Friday dinner, snacks, Saturday breakfast and lunch, as well as a shared room with bed or bunk.
Option #2: Two nights includes the above as well as Saturday dinner and Sunday breakfast.
Scholarship Donation: If you are interested in making a scholarship donation to offset the cost for women who might find the full price a hardship, including some from the inner city, indicate an amount on the form.
Scholarship Help: If the full price of the retreat would be a hardship for you, indicate you need a partial payment on the form.
Questions about the retreat? Contact Janet at .
For help with the digital sign-up, contact Julie at .
---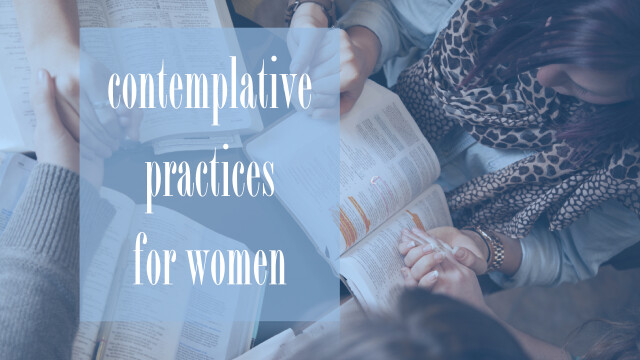 Every Thursday starting on September 12 from 8:15 to 9:30 AM in the chapel
Join us in gathering before the women's studies for a variety of contemplative practices. Questions? Contact Sharon Gentry at .