NEXT
Ways you can be involved at Hillcrest this week and beyond!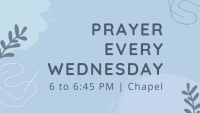 Prayer Every Wednesday | Join with others to pray each Wednesday from 6 to 6:45 PM in the Chapel. Together we'll sit with God to listen and talk about the world, our neighborhood, our church, and our lives. More here...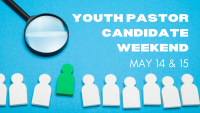 Youth Pastor Candidate Weekend is May 14 & 15 | Our search team has unanimously recommended a candidate for our next Youth Pastor and you get to meet him! More here...
—Meet & Greet on Saturday, May 14 at 3 PM in the sanctuary with Sheridan's Frozen Custard.
—Introduction of Youth Pastor Candidate on Sunday, May 15 at 9 or 10:30 AM at a congregational meeting at the end of each service. Because this is a pastoral position, members will vote to affirm the call.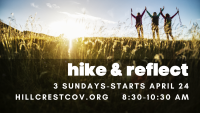 Hike & Reflect May 15 | God designed our bodies to move but too often we get stuck in our heads. Join us for a 3-session hike & reflect for a time to connect with Jesus and other women. We'll meet at Hillcrest at 8:30 AM and carpool together to a local trail. Learn more here...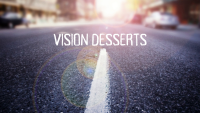 You are invited to one of our Vision Desserts at various dates, times, and locations from May 15 to June 12 | God is moving at Hillcrest and we are excited to continue the conversation as we listen and respond to His leading in our community. We'll share the work the leaders at Hillcrest have been doing and ask for your input. Sign up here...
Budget Meeting is Sunday, May 22 | Plan now to join us for an informational meeting in the sanctuary at 6 PM with Q & A time.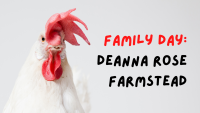 Family Day at Deanna Rose Farmstead is Sunday, May 22 | Let's celebrate the end of the school year at Deanna Rose Children's Farmstead. Meet at the east entrance at 12:30 PM, bring your own lunch and we'll eat together and then enjoy Deanna Rose. Sign up here...
Fourth Friday Concert in Franklin Park is May 27 | Meet us from 6:30 to 8:30 PM for live music from Moon City Big Band, food for purchase from a local food truck and free meals for kids 12 and under. See our whole summer line-up here...
Car Wash Fundraiser on Sunday, May 29 from 9 AM to noon | Support our team of high schoolers and adults who will be serving at Covenant Bible Camp in Unalakleet, Alaska in June by getting your car washed during church! More about donations here...