Support Groups
During life's challenging seasons, find help and hope in community with Jesus.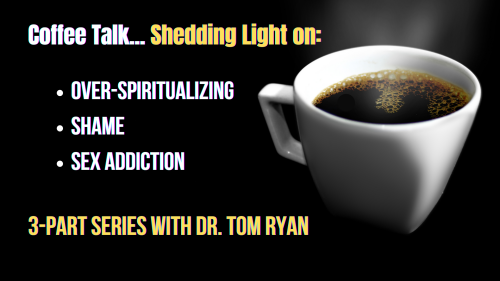 Join us for this Coffee Talk series with guest speaker, Tom Ryan*, author of Ashamed No More: A Pastor's Journey Through Sex Addiction. See below for full bio.
Faith and Sex Addiction with guest speaker, Tom Ryan* on Saturday, March 25 from 11:30 AM to 1:30 PM in Room 204 | One of God's great gifts is human sexuality. It's also a part of life many people find challenging. We'll explore what is a sexual addiction, how can someone be a Christian and also addicted to sex, and how the Gospel can help us deal with the cultural tsunami of sexual addiction.
*Tom Ryan Bio
T. C. Ryan, BSEd (University of Missouri), MDiv (Fuller Theological Seminary), DMin (Fuller Theological Seminary), has been an ordained minister for over thirty years and is certified as a Pastoral Sex Addiction Professional (IITAP).
Having served on the staff of several churches and ministry organizations, he was for nineteen years the founding and senior pastor of a large church in a suburb of Kansas City. In that role he supervised professional staff and lay volunteers, and oversaw the development of creative programs of spiritual nurture and creative outreach. He gave leadership beyond his local church and twice served as moderator of his denomination's regional governing body.
In addition to his ministry experience, Dr. Ryan is personally familiar with the dynamics and demands of recovering from addiction. He is the author of Ashamed No More: A Pastor's Journey Through Sex Addiction (InterVarsity Press, 2012).
He founded and is executive director of LivingIntegrated, a nonprofit organization helping both individuals and organizations deal with the cultural crisis of compulsive sexual behaviors. In that role he regularly facilitates part of an intensive treatment program, Boulder Recovery. He speaks to a variety of groups regarding recovery, Christian spirituality and compulsive sexual behavior. He and his wife, Pam, have four grown children and currently reside in the Kansas City area.
---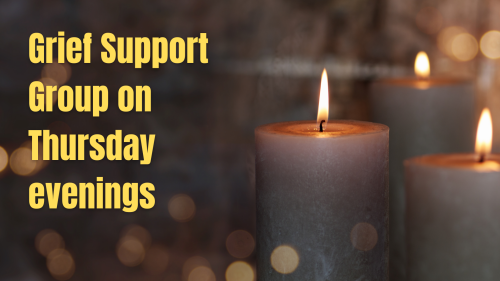 GriefShare: Thursday, Evening Support Group January 12 to April 13 from 6:30 to 8:30 PM in Room 203.
This 13-week daytime support group is for those who have lost a loved one. It offers encouragement and help for those experiencing grief. You are welcome to attend any session during the 13-week session. Everyone is welcome.
Register for Thursday evening group here.
---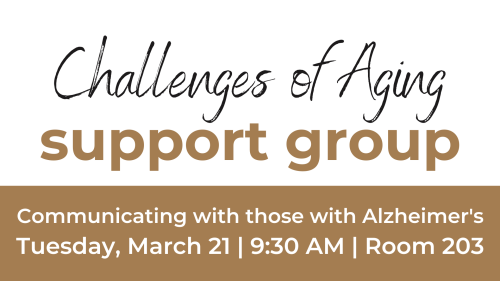 Next Challenges of Aging support group tbd at 9:30 AM in Room 203 with Steve Graf facilitating. | No one can really prepare you for the challenges of growing older. It may be easy to understand the physical changes, but what about the impact on us mentally, emotionally, socially, and spiritually? Or the impact on our relationships with our spouse, and other loved ones? Meet us in the chapel at 1 PM for a real talk about the mental, emotional, social, and spiritual changes while aging and share how we can adapt, overcome, and carry on. No need to sign up, just show up!
---
Coffee Talk Shedding Light on Spiritual Disciplines 101 | Growing spiritually can impact every other area of our lives mentally, physically and emotionally especially as we learn to use different types of training tools otherwise known as spiritual disciplines.These disciplines can range from prayer to walking in nature to creative expressions.
Join us Saturday, April 1 at 11:30 AM to 1 PM for Coffee Talk on Spiritual Disciplines 101. Spiritual Directors Mel Bockelman, Ericka Wheeler and Cindy Meyer will lead a discussion on how to incorporate spiritual disciplines in your daily walk.
---
Questions? Contact Natalie Moultrie, Support Group Coordinator, at or 913-901-2300.