Hillcrest Kids


SUNDAYS AT HILLCREST KIDS
9:00 AM & 10:30 AM

Sunday mornings in Hillcrest Kids is infused with the truth of the Gospel through interactive and age-appropriate large and small group experiences. We desire to see kids and their families come to faith in Jesus and pursue Him with their whole hearts.
OUR COVENANT TO FAMILIES
At Hillcrest Kids, we treat every child like they are our own. Every leader who serves on the Hillcrest Kids team has been through our vetting and onboarding process. We know our leaders and trust them to love and lead the kids and families at Hillcrest. We take safety seriously and will shepherd your children as we welcome them, love them, and point them to Jesus.

SECURE CHECK-IN
Every family that attends on Sunday mornings utilizes our secure check-in process upon arrival. Our check-in kiosks are located on the lower level outside the Fellowship Hall or the upper level by the Chapel entrance. We'll have people ready to escort your family to your child's class location. Every parent will receive a guardian pick-up tag that must be presented when collecting their child at the end of services. CREATE A CHECK-IN ACCOUNT and upon arrival, go to a check-in kiosk and follow the onscreen directions. If you need help, just ask a member of our guest services team to assist you.

NURSERY & PRESCHOOL
(6 Weeks - PreK)
We love the "littles," and while in our care, Babies through PreK will experience clean, safe spaces where our serve teams share the love of Jesus with every child. Children will experience the truth of God's word through play, hands-on activities, games, music, and storytelling. We can't wait to see our "littles" each week in Hillcrest Kids!
ELEMENTARY (Summer Schedule | June 11 - September 10 Elementary will meet at 9:00 AM Service Only)
(Kindergarten - 5th Grade)
Children in Kindergarten through 5th grade will jump into each service with activities designed to help them engage in God's word through games, hands-on learning, worship, Biblical teaching, reflection, and small group interaction. Our elementary serve team is excited to help your child explore the Bible to discover all the beautiful truths and promises within.
---

UPCOMING EVENTS IN HILLCREST KIDS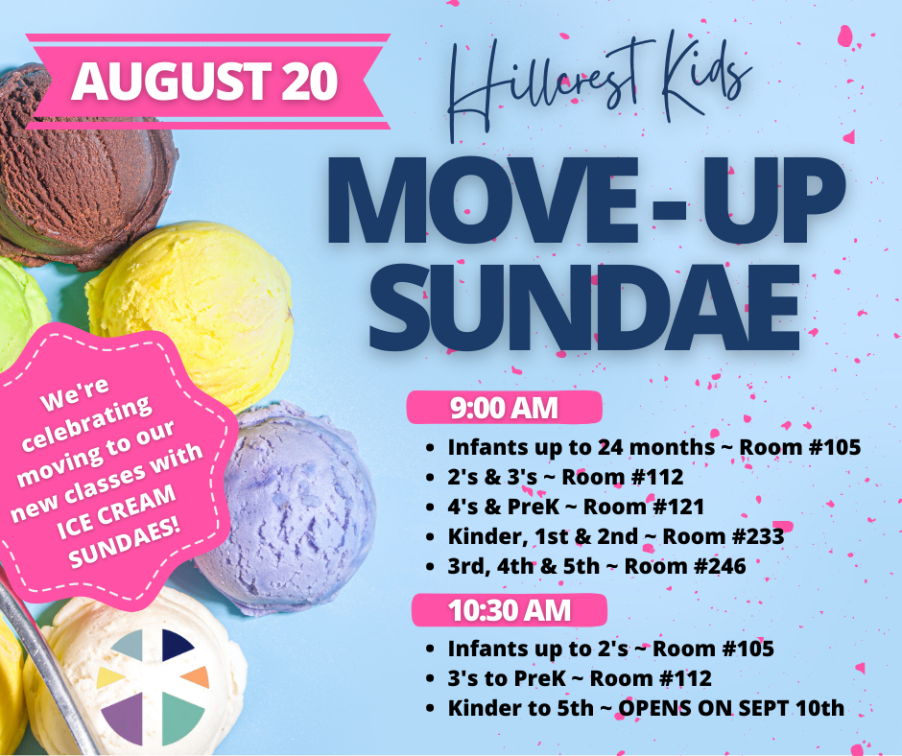 NEW TO HILLCREST? CREATE YOUR CHILD CHECK-IN ACCOUNT
---
RESOURCES FOR YOUR FAMILY