Women
At Hillcrest, women are learning to love God and others in different seasons of life!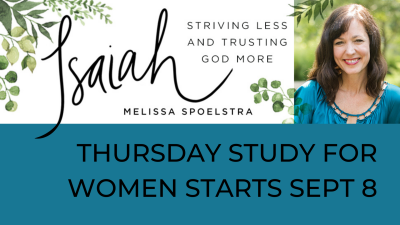 THURSDAY BIBLE STUDY | Women of all ages and stages are invited to our fall study starting September 8!
Thursdays, September 8 to December 15 (14-weeks) from 9:30 to 11:30 AM in Fellowship Hall
Join us as we watch and discuss Melissa Spoelstra's exploration of Isaiah. Together we'll study Isaiah—from his challenging words to the nation of Israel to his prophecies of the Messiah to come—we'll learn to rest in God's promises and grow in trust. Unpacking Isaiah's words will reveal that we can trust God more than our own human effort or the counterfeits the world suggests. We won't be striving harder, but instead trusting more deeply the Faithful One who is so worthy of our utter dependence. In Him we'll find the comfort and peace we need to sustain us. No sign-up required.
Purchase a study guide online at Lifeway, Amazon, or at your local Christian bookstore. Childcare is not available for this study.
Questions? Email Dana Ator at
---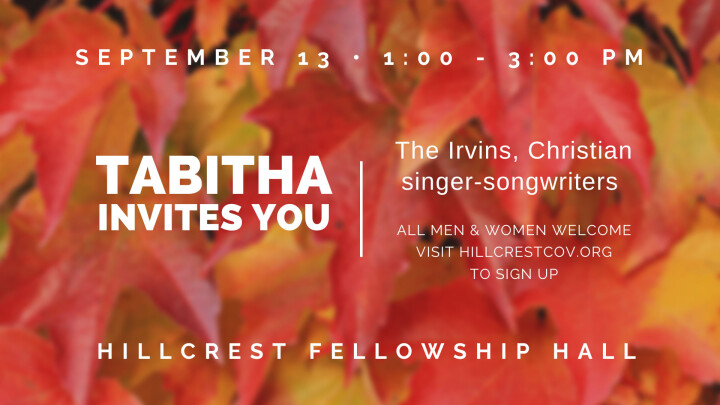 Join us for coffee, dessert, and conversation the second Tuesday of each month September through May. In September, we'll hear music from Christian singer-songwriters Dave and Beth Irvin from 1 to 3 PM in Fellowship Hall. Women and men of all ages are invited. RSVP to Kathy Langley at 913-788-0788.
As Christian entertainers based out of Kansas City, Dave and Beth Irvin bring a wholesome family style show to audiences across the country. With big imaginations and many talents, they use their singer-songwriting skills in addition to their comedic insight to create original uplifting songs as well as original characters like Lizzy Lou (brought to life by Beth). Dave's own style of guitar and their voices brings a unique sound to any stage.
Tabitha is a ministry for women ages 55 and up and occasionally men are invited, too!
---
Adult Ministry Staff
Nate Severson | Community Life Pastor |