Neighborhood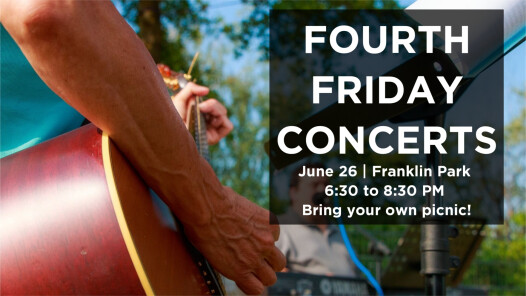 Fourth Friday Concerts-Summer 2020
Join us on June 26 from 6:30 to 8:30 PM at Franklin Park as we start off our summer concert series with a
TWIST!
You'll enjoy the sounds of The Recliners, a classic rock band that plays favorite hits from the 60s and 70s and the TWIST is that we'll have fun activities for kids of all ages led by our HCKid's team!
Changes for this summer:
Bring your own chair, your own picnic (no food provided this summer), your own beverages (non-alcoholic) and enjoy our outdoor concert under a canopy of trees.
PV Reopen Plan requires 6' distancing in their parks this summer.
Check our website homepage after 3:30 PM on the day of the concert for any notice of cancellations.
Summer Line-up:
June 26 : The Recliners
July 24: Moon City Big Band
August 28: Way Too Famous
Community Life Staff
Nate Severson | Associate Pastor of Community Life |
Julie Cook | Ministry Coordinator |
Neighborhood Ministry Staff
Larry Williams | Missions Pastor |
Jill Jones | Missions Assistant |